The Propane Education and Research Council (PERC) is partnering for cleaner air. The organization will be sponsoring EPA's upcoming Clean Diesel 10 conference on October 19 and 20th being held at the Walter E. Washington Convention Center in
D.C. As part of its promotional efforts during the event, PERC will be helping to celebrate the success of the National Clean Diesel Campaign through its involvement in presentations. PERC will also showcase its latest autogas products including research, development and training programs.
According to PERC, propane autogas has been used in vehicles since 1913 and today, a wide range of vehicles are now available that can use propane including trucks, vans, shuttles, and school buses. For those who convert to propane autogas, there are various federal and state rebates and incentives to help offset conversion costs. In addition, there is currently an alternative fuel tax credit for fleet vehicles of 50 cents per gallon.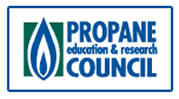 "We congratulate the National Clean Diesel Campaign for its effort and progress to help clean our air, and we are pleased to sponsor this event," said Brian Feehan, vice president of PERC, who will make a presentation during a panel discussion on state and local leaders working with communities. "Propane autogas is already helping Americans reduce their impact on the environment, and it stands ready to do more."
The purpose of the National Clean Diesel Campaign is to reduce diesel emissions. According to the EPA, every dollar spent on clean diesel projects produces public health benefits worth up to $13.
Conference attendees include government policy makers, environmental project managers and those working in and around the diesel and auto industries. To register or for more information on the conference, visit www.cleandiesel10.com.