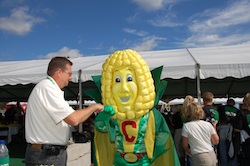 Last Saturday, most Americans took a moment to remember those lost on 9-11. I was at the Iowa versus Iowa State football game when more than 70,000 fans spent a moment in silence to honor those who died. During this time I reflected on things that our country can do to keep Americans safe and one such action is to reduce our purchase of foreign oil.
Corn farmers play a major role in helping America produce domestic, renewable fuels such as ethanol and I also spent last Saturday with more than 900 Iowa corn farmers, many who are growing corn for ethanol. The Iowa Corn Growers Association (ICGA) sponsored the game on Saturday as part of their mission to educate consumers about the role Iowa corn farmers play in producing their food and fuel.
ICGA CEO Craig Floss said that during the game, they were able to tell the story of how ethanol fits into the picture and what that means for Iowa corn farmers.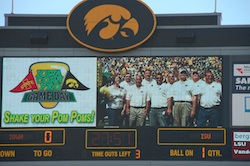 "There is no other liquid form of petroleum product like ethanol that can actually replace foreign produced oil. And the bulk of our oil comes from countries that have governments that are not like ours," said Floss. He continued that everyone was touched by the event and has a connection to the event and we need to find a way to send less money to those countries. That is why we like corn farmers, explained Floss. They're good for our economy and good for our security.
Floss concluded that corn farmers will continue to exceed global needs of corn and said that we haven't even started to unlock the genetic code of what corn can do.
You can see pictures from game day in the Iowa Corn Fed Game Day photo album.
You can listen to my interview with Craig Floss here. Iowa Corn Farmers Will Reach New Heights