Iowa has won the Grid Iron Game. I'm sure this is no surprise to most people….this year anyway. The final score was Iowa 35, Iowa State 7. Earlier today, I asked many of the Iowa corn growers who would win the game and I must admit, the majority picked Iowa.
But the real winners today are the football fans who have had the opportunity to learn more about how much their daily lives are impacted by corn and the farmers who grow it as part of the Iowa Corn Fed Game Day promotion.
From the moment you wake up until the moment you go to bed, you have been touched by corn. It's in your toothpaste, your breakfast cereal and even the milk you pour on top. It's in your fuel and in your tires and in the plastic containing your water. It's also in your hair products and the carpet fibers in your office floor. Every day,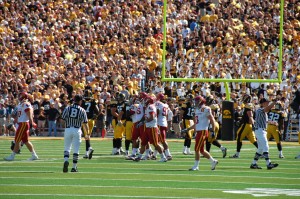 Iowa corn farmers, and corn farmers around the world make the things you enjoy possible with their hard work and dedication. Each year they are meeting the country's and the world's demands by growing more corn per acre using less inputs and less land. Pretty amazing.
So let's take a moment to thank our corn farmers and congratulate the University of Iowa for a game well played and give some props to ISU who played with a lot of heart.
We'll see you next year and you'd better bring your game, Iowa, because the game is in Ames and ISU will be bringing it on!
You can see pictures from game day in the Iowa Corn Fed Game Day photo album.