For us Iowa State fans, this has been a tough game to watch and especially difficult for me because I predicted several times this week that ISU would win. But hey – we are playing the #9 ranked team in the country and this is an ISU re-building year with a new coach, Paul Rhoads. In case you are following the Iowa State versus Iowa football game via this site, the score is now Iowa 35, Iowa State 0 with 10 minutes left in the second half.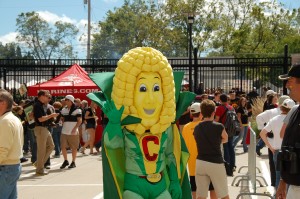 For you football fans, if ISU doesn't score a touchdown in this game, this will be the third year in a row they've failed to visit the end zone. Even so, they have won in the past three years – on field goals.
While many Iowa corn growers were making predictions on the game, Captain Cornelius was also making a prediction, for both teams. He is impartial – or at least that what we think he mimed when Iowa Corn Growers CEO Craig Floss interviewed him in the member tent this morning before the game. I guess this means that Captain Cornelius' predictions were right.
After his insightful interview, Captain Cornelius headed to the ICGA consumer tent where he met the football fans and encouraged them to learn more about all the products that are made with corn including ethanol. In the state of Iowa, 80 percent of drivers are filling up with ethanol blended fuel, so the chances are, 8 out of 10 fans at this game drove here using the homegrown, renewable fuel grown by our very own Iowa farmers.
You can see pictures from game day in the Iowa Corn Fed Game Day photo album.