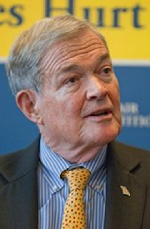 He's been a big advocate for biodiesel for quite some time, so it's only fitting that the National Biodiesel Board has honored retiring U.S. Senator Kit Bond (R-MO) today with its Lifetime Achievement Award.
"America is striving for energy security and clean air, and Senator Bond deserves our thanks for helping to make biodiesel viable," said NBB CEO Joe Jobe. "He's our longest-standing champion in making our nation's first commercially available advanced biofuel a reality."
The National Biodiesel Board is headquartered in Missouri because that's where commercial biodiesel development began, thanks in part to Bond's early support of research at the University of Missouri, and collaboration with the Missouri Soybean Association.
"I want to thank you all here at the National Biodiesel Board for this award and for your support," said U.S. Senator Kit Bond. "In 40 years of public service, I have seen many ideas come and go. Biofuels, or generating energy from crops we have in abundance is an idea that is here to stay. It makes sense environmentally, it makes sense from a business perspective, and it means we don't have to import as much energy from foreign sources. Congratulations to all of you for seeing that and for advancing biodiesel and this young, promising industry."
Bond was recognized for his part in passing the federal biodiesel tax incentive and the Renewable Fuels Standard, as well as securing funding for major biodiesel research initiatives, including:
– A four-year Department of Transportation research program to address biodiesel feedstock development, engine testing, fuel quality, and glycerin uses
– A DOT biodiesel infrastructure development and petroleum industry education project
– A Federal Transit Authority program for studying biodiesel usage in urban transit buses
– A Department of Energy program to research the future potential of algae for biodiesel production
After his time in public service, Bond will be retiring to his farm near Mexico, Missouri … not far from Mid America Biofuels, one of the state's largest biodiesel plants. Let's hope his replacement will be as big of an advocate for the green fuel.