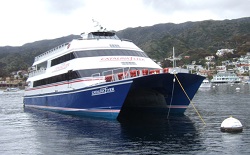 Some new clean air regulations in California could lead to a popular ferry shutting down. But it might not have to if the vessel uses biodiesel.
This article from the Daily Pilot says the Catalina Flyer, a 500-passenger catamaran that runs between the mainland and Santa Catalina Island could have to shut down while the owners buy and install a new engine in line with the state's environmental law. But it doesn't have to be that way:
Bob Black, general manager for the tour boat company, said that unless he's able to find a catamaran to lease, he may suspend service to Avalon as early as Sept. 12.
"I'm not thrilled about having to do this, but it's something we've got to do," said Black, referring to the purchase of a pair of engines that will cost him nearly $1 million.
Even though Black said the ship's engine is in fine shape and he doesn't believe it is polluting the waters, the state requires all commercial vessels to be equipped with new engines that reduce emissions in compliance with the Commercial Harbor Craft Regulation.
The purpose of the law, which was adopted Nov. 15, 2007, by the California Air Resources Board, is to reduce the amount of pollution caused by diesel engines on commercial harbor craft that operate within 24 nautical miles of the California coast.
Although the new law seems like it is three years old, it didn't actually go into effect until 2009, which is why the Catalina Flyer is having to search for a replacement boat until the new engines are bought and installed.
But later on in the article, it's pointed out that "[a]ll diesel engines on commercial harbor craft must be fueled with California Air Resource Board diesel fuel, with a sulfur content less than or equal to 15 parts per million, or an alternative diesel fuel such as biodiesel."
So what gives? Are Californians so opposed to biofuels (note the state's fighting of the use of ethanol instead of MTBE as an anti-pollution additive for gasoline) that they'll lay off workers instead of using biodiesel … which will run in any current engine that runs on diesel … that might just burn clean enough to meet regulations? I'll need to investigate this further, and maybe, in the meantime, someone can come up with an explanation.