Did you know that 60 cents of each gallon of E85 purchased stays in the state of Iowa? I didn't know that until I participated in the Iowa Corn Fed Game Day pump rally at Riverside, Iowa to get people "pumped up" for the upcoming Iowa State versus Iowa football game. Another way to look at this is for each gallon of E85 you purchase, 85 cents stays in America; whereas if you purchase E10, only 10 cents stays in America while 90 cents heads out of our borders.
Here are two more interesting facts. Did you know that Iowa is ranked #9 in the country; yet non-ranked Iowa State has the most difficult schedule this year?
And one more…Did you know that Iowa is the leading producer of corn and ethanol in the country? Iowa boasts 40 ethanol plants that produce more than 3 billion gallons of ethanol each year saving consumers money at the pump with each mile they drive.
So where did I learn these nifty facts? From an actual corn farmer, Dick Gallagher, who was on hand to educate consumers about ethanol blended fuels as well as educate consumers about all the products that have corn in them..shirts, biodegradable plastics, carpet, tires, and more. They all use corn as one of their ingredients and whether you realize it or not, our lives would not, and could not, be the same without our corn farmers.
Speaking of our corn farmers, they are growing enough corn to meet all of our needs for food, feed and fuel, both here in America as well as overseas and they are doing it each year using less land.
But let's hope that Iowa State doesn't score less than Iowa but scores more than Iowa, but I digress.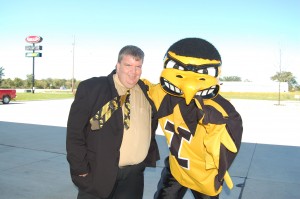 Kum & Go was a sponsor of today's pump rallies and they have been a long-time ethanol supporter. Matt Chase, with Kum & Go told me that 31 of their stores in Iowa sell E85, more than any other retailer, and all of their stations sell E10 blended fuels.
The Iowa Corn Fed Game Day promotion is sponsored by Iowa Corn Growers Association and continues all week long leading up to game day on Saturday. The game begins at 2:30 pm CST but come early. Iowa Corn will have a booth set up at Krause Family Plaza at 10:00 am where they will hosting some fun games as well as the chance to win $5,000 in free food and $2,500 in free ethanol-blended fuel. You can also sign up online at www.iacornfed.com.
And one last cool fact to leave you with….Herky the Hawk is a HUGE fan of ethanol.