"The 50th Anniversary of OPEC made our nation and others dependent on a few countries for oil – many that don't have our best interest at heart," said Tom Buis, CEO of Growth Energy during a press conference at the Farm Progress Show currently being held in Boone, Iowa.
OPEC was formed on September 14, 1960 and today, America's dependence on oil from OPEC countries has put our country's security at risk. One answer to this is ethanol; yet ethanol's future in uncertain with several policies in jeopardy including the E15 waiver, ethanol tax credit and ethanol tariff.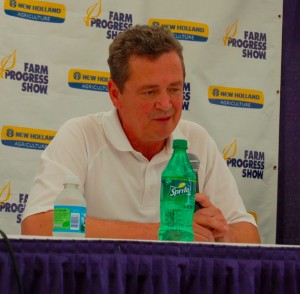 The industry is currently being held hostage by a fickle federal policy and today, Washington is pretty much in a stalemate. "It's not because there aren't great ideas, or not great needs to move forward, but it's a very politically competitive town," explained Buis. "And both political parties want to win this next election. It's like Iowa State playing Iowa in football. Neither side wants to see the other team score any points. The opportunity for bipartisan working relationships is not the most conducive at this time. Hopefully that changes after the elections."
There is still some hope for this year, as Senator Reid (D-NV) has called for a lame duck sessions to help on November 15, 2010.
Buis has stressed that the ethanol industry doesn't have a production problem, but a market access problem and passing these varied policies, especially the E15 waiver, will help to open up new markets. The simple act of doing this, says Buis, is that ethanol will help reduce an additional 7 billion gallons of ethanol per year. "It's like saying to Hugo Chavez and Venezuelan oil, we're not buying your oil any more."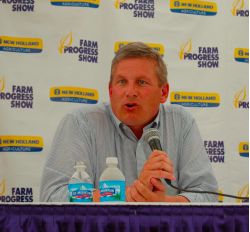 Iowa Ag Secretary Bill Northey, noted that just this week, an ethanol plant sold a gallon of ethanol for $1.62. "We actually have ethanol plants right now that are producing ethanol, selling ethanol, for less than the cost of gasoline and that's without the tax credit."
He continued, "Certainly we need some of those incentives to continue. We need some predictability, we need more than three months predictability with those incentives going off this December. We need a longer-term vision of what can happen out there."
A longer term vision is definitely needed if America truly wants to meet is goal of achieving energy independence, and a major step to achieving this is passing more comprehensive policies including the ethanol tax credit, E15 waiver and flex-fuel vehicle policy.
You can listen to the Growth Energy press conference here. Growth Energy Press Conference During Farm Progress Show