Donnie Bowles has become the first member of the ROUSH Drag Team to take a liquid propane-powered Mustang to victory circle. The win was achieved during the August 29, 2010 elimination rounds of the 4th Annual NMCA Muscle Car Nationals at Milan, Michigan Dragway.
While things started out well, the biggest drama of the event came during the third round when the team discovered a crack in the wishbone. The team was able to recover in time for the next round and ultimately Bowles captured the win by only 0.01-second.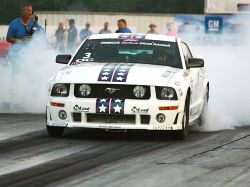 "It was very satisfying to get the first win for the ROUSH Powered by Propane Drag Team. My teammate Susan (Roush-McClenaghan) and I have both gone to final rounds this year, but haven't quite been able to close the deal until this weekend at Milan. It required a total team effort, as we faced our share of challenges on Sunday," explained Bowles.
Bowles currently leads the NMCA Open Comp point standings and races a 2005 ROUSH Stage 3 Mustang which was converted during the off-season to run on liquid propane. This car, along with a 2010 ROUSH Stage 3 driven by teammate Susan Roush-McClenaghan, are an offshoot of the kits that ROUSH Performance uses to convert gasoline-powered Ford pickups and vans to run on propane.
Both cars use an all-aluminum 5.4L, V-8 Ford engine that was originally designed for the Ford GT supercar. This engine is naturally-aspirated with a 12.5:1 compression ratio. Several other changes were required to run on liquid propane, including CNC ported cylinder heads, high performance camshaft and valvetrain, and a wet sump lubrication system, all of which helps these liquid propane-power engines to generate in excess of 700 horsepower.