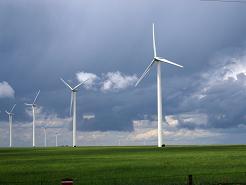 The U.S. is using less energy, but more of it is coming from renewable sources, such as wind and solar.
CNN Money reports a new report from the Lawrence Livermore National Laboratory (LLNL) says the 5 percent drop in American energy usage during 2009 is the largest annual drop on record. But wind energy production alone rose more than one-third during the same period:
Despite the drop in overall energy use, [A.J. Simon, an energy analyst at LLNL] said the study also showed a substantial increase in alternative sources of energy, including gains in solar, hydro and wind power.
"The increase in renewables is a really good story, especially in the wind arena," said Simon. "It's a result of very good incentives and technological advancements."
The use of wind power rose "dramatically" to 0.7 quadrillion BTUs in 2009 from 0.51 quadrillion BTUs the year before, according to LLNL which compiles the data for the U.S. Department of Energy.
Under the 2009 economic recovery act, the Department of Energy has offered generous tax breaks and grants to help fund the development of wind energy. President Obama has set a target of doubling the country's renewable energy capacity by 2012.
The article says the increase of wind power has directly helped reduce the amount of coal used in this country.