A Volkswagen Beetle burning a 5 percent blend of biodiesel and SynDiesel, often referred to as synthetic or GTL diesel, looks to set a mileage record at Hot Rod Magazine's Drag Week in September.
The company says the SynDiesel Project X Volkswagen Beetle is the favorite to capture the mileage record for the five day event that has competitors race at five different drag strips and have to drive, unassisted to all events during the week:
Last year, Mike Wood's "DuraMax GT," a 1994 Mustang GT was the winner of the Diesel Class competition, burning an average of 38.5 miles per gallon, including race time. "My miles per gallon were 3.5 mpg better than last year using a number two diesel. The SynDiesel provided a lot less smoke, more power and cleaner launches. I attribute my win, in part, to the SynDiesel fuel."
SynDiesel is a renewable and green fuel that was created as an alternative to fossil crude oil diesel. Syndiesel can be used in diesel engines without modification, including automobiles, trucks, buses and industrial diesel turbines. Syndiesel carries the highest cetane number of any diesel fuel on the market, making it a clean alternative than regular diesel.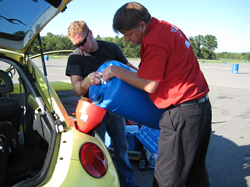 Greg Hogue, owner, Motor Sports Supply, and driver of the "Project X" Beetle in Drag Week 2010, said, "This is the second year that SynDiesel has fueled the Project X Beetle at Drag Week. We have rebuilt our engine to accommodate the higher cetane and power that the fuel has to offer. We learned a lot from Mike Woods' Nitrous Express Duramax Mustang that busted the 200 MPH barrier using SynDiesel racing fuel and we are ready to set a record with what could be the world's fastest VW Beetle."
The biodiesel blended with Syndiesel is made from soybean and canola oil.