The largest global cellulosic biomass harvest in history is underway and already the world is watching. Last week, Project Liberty kicked off their one-year biomass harvest pilot program as an effort to ensure all the correct logistics are in place in time for Project Liberty to go online in early 2012.
During the event, I caught up with Scott Weishaar, who runs POET's biomass division. He and his team have been working for years on commercializing cellulsoic ethanol using light corn stover and corn cobs and this pilot program represents that last major hurdle for success.
As part of this program, POET Biomass will have a biomass storage building completed in time for harvest that will house up to 23,000 tons of biomass bales at any given time.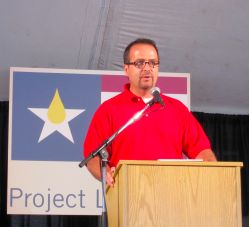 Along with progress comes concerns and Weishaar is very cognizant that people have concerns over what impact the removal of biomass will be on the soil. "We know there are concerns. So we want to make sure we understand all the aspects that are associated with that – soil erosion, nutrients, compaction, and storage characteristics," said Weishaar.
All of these elements are being studied in conjunction with several partners including Idaho National Laboratory, Iowa State University and USDA's Biomass Program and the goal is to have all major questions answered prior to the cellulosic ethanol plant going online.
"We are working around the logistics surrounding the collection, storage, and handling of the biomass so we're ready to supply the feedstock in 2012," said Weishaar.
As the world watches, there are still many who doubt commercial cellulosic ethanol will ever succeed. To that, Weishaar says the "proof is in the pudding" and they are ready to meet the country's challenges of producing 36 billion gallons of biofuels by 2022 and reducing its dependence on foreign oil."
Listen to the interview with Scott Weishaar here: Scott Weishaar Talks Biomass