The 212th E85 station has opened in Illinois.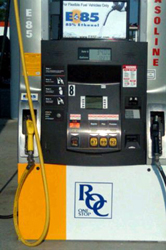 Russell Oil Company worked with Growth Energy's 2010 E85 and Blender Pump program to bring E85 fuel to their ROC One Stop in Marion, Ill. "We wanted to provide a quality fuel that is better for the environment, supports our local farmers, as well as help us to increase sales and fuel margins," said manager Jonathan Russell. "We appreciate the support of Growth Energy, the availability of informational materials, signs and the advice we have been given to promote the sale of E85."
Growth Energy offers funding to retailers to assist in ethanol blender pump infrastructure. Grants of $2,500 and $5,000 are available to vendors who wish to install new or convert existing equipment for ethanol fueling, in addition to any Federal or state grants or incentives a retailer may be eligible.