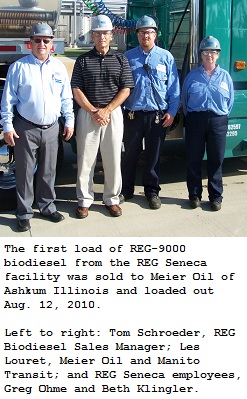 Iowa-based Renewable Energy Group (REG) has held a grand re-opening of its Seneca, Illinois biodiesel plant after taking over the 60 million-gallon-a-year biodiesel and glycerin facility from Nova Biosource Fuels.
REG celebrated the occasion with a ribbon cutting ceremony and by selling the first load of REG-9000 biodiesel from the refinery to Meier Oil of Ashkum Illinois last Thursday.
The REG Seneca facility has three side-by-side 20 mgy biodiesel process units, a technical grade glycerin refining facility, raw material and finished product storage as well as rail car and truck unloading and loading with the potential for barge transportation that had been idled for more than a year. This re-opening put 38 plant workers back on the job.
REG now wholly-owns five biodiesel production businesses and markets biodiesel in 49 states.