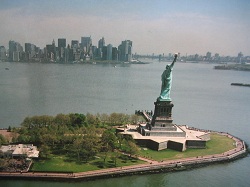 Besides being home to some politicians who are blow-hards at times, New York City could be in line to have some giant wind turbines to feed the area's energy needs (much better use of windiness).
This New York Times article says that the long-term plan has been to put up huge wind turbines in the Atlantic Ocean off Long Island. But some offshore wind turbines could end up much closer to the Big Apple:
Within three years, the Port Authority of New York and New Jersey hopes to have five wind towers, each more than 280 feet tall, operating on the west side of New York Harbor. Nearby, the City of Bayonne, N.J., plans to install an equally large turbine to power a sewage-pumping station. Meanwhile, the Department of Veterans Affairs is considering placing wind turbines on or near its hospitals in Manhattan and Brooklyn.
New York, it turns out, is a windy city, well suited for turning stiff breezes into electricity. If open space were not so rare, the city might be a prime spot for harnessing the wind, said Bill Baroni, deputy executive director of the Port Authority.
"Anybody who's ever stood out at the dock in Weehawken waiting for a ferry just knows it's a very windy area," Mr. Baroni said. "Apparently, it's a pretty good place to put windmills."
In 2008, Mayor Michael R. Bloomberg announced his plan to use wind power to help reduce the city's dependence on power plants that run on fossil fuels. So far, there are no large-scale efforts to harness the wind in the city, only token projects like the small turbines on the roof of an apartment building in the Bronx and a wind-powered electronic billboard for Coca-Cola in Times Square.
The city's Economic Development Corporation has been studying the feasibility of putting turbines atop buildings, including a warehouse at the Hunts Point Cooperative Market in the Bronx. But the high hopes rest on a partnership, with utility companies and the New York Power Authority, that has designs on building a wind farm on about 65,000 acres of the Atlantic floor. The New York consortium said at the end of June that it would apply for a 25-year lease on the site, with hopes of generating as much as 700 megawatts of power there by 2016.
In addition, a proposed shore-based project on the border of Bayonne and Jersey City of five turbines producing up to 7.5 megawatts — enough to run at least 2,000 homes — could be up and running by 2013.