Growth Energy and Pro Ag Marketing have joined forces to install two new blender pumps in Kirwin and Kensington, Kan. The Kirwin Blender pump station is branded Pro Ag Marketing and the Kensington facility is named Corner Corral Cenex.
"Selling ethanol blended fuels in our communities makes sense, as there is great synergy between what we do in producing the crops that are used in making ethanol and putting that ethanol fuel right back into our cars and trucks that we use every day," said James Jirak, General Manager of Pro Ag Marketing and station owner. "In a way, we are supporting our own local economy as we create demand for our crops by using ethanol."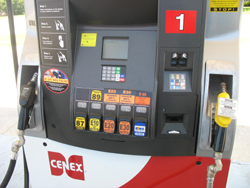 On Friday, Kansas ethanol producer Prairie Horizon, headquartered in Phillipsburg, will sponsor a grand opening event at the Corner Corral Cenex featuring industry representatives, state lawmakers and officials. The station will offer special pricing for ethanol-blended fuel, with E85 for 85 cents per gallon and 25 cents discounts on E10, E20 and E30. "Blender pump infrastructure is important to us as an ethanol producer because it further promotes ethanol as America's fuel," said Mike Erhart, General Manager of Prairie Horizon.
The new pumps installed will bring the total number of blender pumps in the state to 14. The Kansas Corn Commission also provided funding for the blender pumps.