Good news for biofuels this week as the California Department of Labor awarded the San Diego Biofuels Initiative a $4 million grant to train workers to join the biofuels workforce. The award was given through the "Green Innovation Challenge," a green jobs initiative that is overseen by the state's Department of Labor.
According to an article on SanDiego.com, the San Diego area is a hotbed for biofuels companies. There are nearly 30 businesses engaged in biofuels development, with many of these companies focused on algae. Two of the most notable companies in the region are Synthetic Genomics and Sapphire Energy. Both companies have received funding from oil companies and both companies believe they will be producing biodiesel from algae by next year.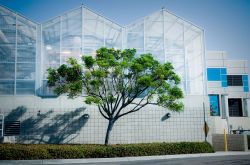 The San Diego Biofuels Initiative is a consortium of associations that include CleanTECH San Diego, BIOCOM, San Diego Regional EDC, San Diego Workforce Partnership and the San Diego Center for Algae Biotechnology (SD-CAB), located at UC San Diego.
On another note, in June, SD-CAB received $9 million dollars to be dispersed over the next three years for research on algal biofuels from the Department of Energy.
According to a study released by the San Diego Association of Governments (SANDAG), algal biofuels research employs 410 scientists and other workers in San Diego but increases to 784 jobs when you include indirect jobs. The industry provides nearly $44.6 million in salaries and provides the region with $108.3 million in economic activity.