Although wind power is growing globally, especially in places such as China, only a light wind is forecast for wind energy growth in the United States. As reported by the American Wind Energy Association (AWEA), only 700 megawats (MW) were added in the second quarter of this year, down 57 percent from 2008 and 71 percent from 2009 levels. In addition, manufacturing investment is also lagging behind 2008 and 2009 levels.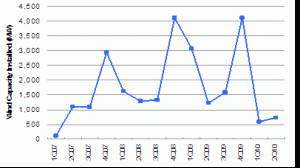 The drop in new wind energy installation may come as a surprise to many, especially since the country has been touting the need for renewable energy development and the creation of green jobs for several years. Yet the words have not been backed up with enough action, and AWEA says that without passing a Renewable Electricity Standard (RES) that would require the nation to meet electricity goals through alternative energy such as wind and solar, the industry will continue to falter.
"Strong federal policy supporting the U.S. wind energy industry has never been more important," said AWEA CEO Denise Bode. "We have an historic opportunity to build a major new manufacturing industry. Without strong, supportive policy like an RES to spur demand, investment, and jobs, manufacturing facilities will go idle and lay off workers if Congress doesn't act now – before time runs out this session."
Although President Obama continues to push climate legislation, policy experts don't predict that any meaningful climate legislation will pass this year.
The Des Moines Register recently reported that the House included a renewable power mandate in a climate bill that barely passed but then stalled in the Senate. Last week, Senate Democratic leaders said that they would be moving forward with a stripped-down energy bill but this new version lacks any power mandate, despite the fact that consumers are supportive of RES legislation, this according to a national poll conducted by Public Opinion Strategies and Bennett, Petts & Normington.
This is unfortunate, since AWEA ultimately says that a long-term market is needed to guarantee growth, and the only way to do this is through an RES mandate.