The California Public Utilities Commission has reported that San Jose is now the largest installer of solar power in the state of California. Today, the city's newest and largest solar installation was unveiled that included more than 2,500 solar panels covering 44,448 square-foot parking lot. The building that is now solar powered is Power Integrations' headquarters in the Edenvale Technology Park. Power Integrations manufacturers high-voltage integrated circuits for energy efficient power conversions.
During a special ceremony today, U.S. Congresswoman Zoe Lofgren, along with San Jose Mayor Chuck Reed, Council member Ash Kalra, and Silicon Valley Leadership Group President and CEO Carl Guardino unveiled the $3.6 million solar array. The project took six months to complete.
"Power Integrations is a great example of how Silicon Valley companies are embracing clean tech innovation," said City of San Jose Mayor Chuck Reed. "Between the company's own line of energy-efficient products and its expansive new solar installation, Power Integrations is playing a key role in helping San Jose achieve its Green Vision goals."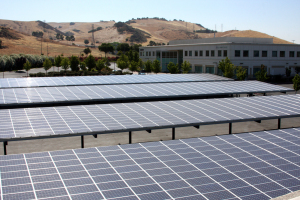 At 600 kilowatts, the system is among the 10 largest solar facilities in Silicon Valley. The installation will fully power one of Power Integrations' two buildings as well as all parking-lot lights at the company's headquarters.
The solar panels are expected to cut more than 10,000 tons of greenhouse-gas emissions over the next 25 years, an amount equivalent to the emissions caused by roughly 20 million miles of car travel. In addition, the installation's smart design covers 280 parking spots, providing shade for employees' cars. A real-time data feed showing current and cumulative energy production from the array can be found on Power Integrations' corporate sustainability website at www.powerint.com/solar.
"For more than a decade, Power Integrations' EcoSmart technology has drastically reduced 'standby' power waste in electronic products, saving consumers and businesses more than $4 billion and preventing millions of tons of CO2 emissions," said Balu Balakrishnan, president and CEO of Power Integrations. "As a socially responsible company, we saw an opportunity to make a profound impact on our own energy consumption by using renewable solar energy to power our operations. We are very proud of this project, which effectively takes an entire building off the grid, and will reduce our energy bills enough to pay for itself in just 12 years."