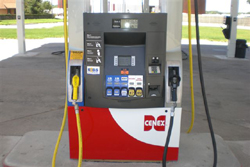 Ord, Nebraska has a new blender pump. Country Partners Cooperative joined forces with Growth Energy to install the community's first blender pump that now offers flex-fuel drivers E20 and E30. Driver's can fill up with these higher ethanol blends at 424 North 14th Street, on the corner of Highway 70 and Highway 11.
"We took advantage of Growth Energy's funding to install a blender pump. We needed to upgrade our pumps and we believe that ethanol is a huge part of our sales and our community, " said Scott Haller, Petroleum Manager for Country Partners Cooperative. "We are a farmer based cooperative so we wanted to get in the structure of burning something we are producing. We have seen a lot more FFV's out there so it's great to give the consumer a choice at the pump."
Consumers were able to begin purchasing the higher ethanol blends on July 10 and opening day sales were more than 1,300 gallons.
Todd Sneller, the Administrator for the Nebraska Ethanol Board, said of Nebraska's newest blender pump, "The expansion of blender pumps in Nebraska offers consumers additional fuel choices at the pump. The increased use of higher ethanol fuel blends helps to retain energy dollars in the Nebraska economy and support the investment in ethanol plants. The Nebraska Ethanol Board applauds this partnership and continues to encourage fuel marketers to offer additional ethanol fuel choices at locations across the state."