Yesterday, Dallas Tonsager, the Under Secretary for Rural Development for the U.S. Department of Agriculture, was on hand for the groundbreaking ceremony for Tennessee's Biomass Innovation Park. The park is a unique campus that will develop technology to integrate and optimizes the entire biomass supply chain. It will also be the site for a $5 million Department of Energy-funded high-tonnage switchgrass bulk handling system.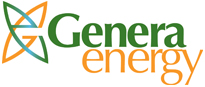 The Biomass Innovation Park will provide harvesting, handling, storage, densification, pre-processing, and transportation for multiple feedstocks including switchgrass, and serve as a foundation for all biomass feedstock used to create biofuels, biochemicals, bioproducts, biomaterials, biopower, and bioenergy. The 21-acre park is located adjacent to the Genera/DDCD demonstration-scale biorefinery in Vonore.
"This facility will integrate biomass receiving, storage, separation, pre-processing, and compaction. It will initially process up to 50,000 tons of switchgrass but is designed to handle a wide range of energy crops and other biomass feedstocks," said Genera President and CEO Dr. Kelly Tiller. "We will also have energy crop R&D demonstration plots onsite, as well as some demonstration scale novel conversion processes and technology.
Switchgrass studies are currently underway and more than 6,000 acres of switchgrass are being grown by local farmers within a 50 mile radius of the plant. Genera has contracted with the farmers to convert the switchgrass to cellulosic ethanol. The first phase of construction will completed by the end of 2010, in time to store and process switchgrass from the fall harvest.
"The Biomass Innovation Park will be a unique and valuable asset in answering many of the questions farmers, biorefineries, and the entire bioenergy industry are asking about sufficient, sustainable, scalable, cost effective supply chains for energy crops;" concluded Dr. Tiller.