San Jose, California is the latest city to install a Networked Charging Station for electric vehicles (EV). The station was installed by Coulomb Technologies and is part of a $37 million ChargePoint America program that will eventually offer hundreds of free stations for public and home charging throughout the Bay area. Coulomb has the largest established base networked charging stations worldwide with more than 700 stations shipped to 130 customers.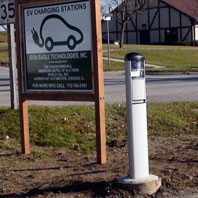 "Coulomb's first customer was the City of San Jose and we're pleased to be back, both to welcome the electric vehicle transformation to Silicon Valley and also to bring jobs to install and maintain electric vehicle infrastructure," said Richard Lowenthal CEO of Coulomb Technologies. "Thanks to our $37 Million ChargePoint America program, San Jose will be one of the first cities in the nation to enable its residents to buy vehicles that don't pollute and don't depend on oil."
Coulomb is working with Ford, Chevrolet and Smart USA, three companies that have announced that they will introduce EVs in the Bay area in upcoming months. The first two ChargePoint America stations are now installed at the McEnergy Convention Center parking center. The program goal is to install 5,000 charging stations in nine regions of the U.S. including Austin, Texas; Detroit, Michigan; Los Angeles, Sacramento, San Jose/San Francisco, California; New York, New York; Orlando, Florida; Bellevue/Redmond, Washington; and Washington D.C.
"The installation of San Jose's first ChargePoint America station is an important step forward in our efforts to make the Bay Area the Electric Vehicle capital of America," said Mayor Chuck Reed. "Our partnership will Coulomb Technologies is the perfect example of how Silicon Valley can lead the world in clean tech innovation and create new jobs in our community."
Coulomb's ChargePoint Network is open to all drivers of plug-in vehicles and provides authentication, management and real-time control for the networked electric vehicle charging stations. ChargePoint Network's unique features also include a ChargePoint iPhone App, location of unoccupied charging stations via smart phones and charging status sent to you by SMS text or email notification.