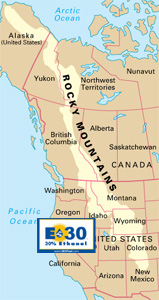 Get Green LLC, Lucky Stop and Growth Energy have teamed up to offer the first blender pump offering mid and high levels of ethanol west of the Rockies.
The Lucky Stop station in Las Vegas offers ethanol blends of E30 and E85 and owner Mike Maalouf is pleased to offer his customers a choice. "Everyone is struggling with the way the economy is right now. By installing E30 and E85 this creates more choices for the consumer, but also assists with lessening our dependency on foreign oil," he said. There are 13 other E85 stations in Nevada, but this is the first to offer an additional blend. The new blender pump opened for business on July 12 and Maalouf reports that his sales have already increased by 30 percent.
Growth Energy provided Lucky's a grant through their 2010 E85 and Blender Pump Program. Tom Buis, CEO of Growth Energy noted that the recent certification of Dresser Wayne and Gilbarco blender pumps by Underwriters Laboratory will help promote the installation of blender pumps across the country to help decrease our dependence on oil.
"We are pleased to assist Lucky Stop with the opening of the first blender pump west of the Rockies," said Buis. "Every blender pump we install will help make our country more energy independent and more secure, all while giving consumers a choice at the pump that includes domestic, renewable ethanol. Growth Energy is pleased to have been able to assist in Lucky Stop's efforts and we remain committed to assist with additional blender pumps across the nation."