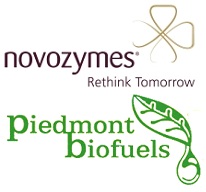 Industrial enzymes producer Novozymes and Piedmont Biofuels of North Carolina will be unveiling new technology at the first enzymatic biodiesel pilot plant in the U.S. tomorrow.
The technology will turn low quality waste grease into high quality biodiesel:
The enzymatic biodiesel pilot plant was developed in partnership with the Biofuels Center of North Carolina, and the Chatham County Economic Development Corporation. The pilot plant, located at Piedmont's site in Pittsboro, NC, is expected to initially produce 12,600 gallons of biodiesel annually.
"This new process of using enzymes to produce biodiesel will increase yields, decrease waste, and allows the producer to use lower cost feedstocks," said Greg Austic of Piedmont Biofuels. "This groundbreaking technology will create more valuable co-products, and will allow existing producers to increase their biodiesel output."
"We are glad to be partnering with our North Carolina neighbor Piedmont Biofuels to develop this promising enzymatic route to biodiesel. With continued research, we believe this technology could contribute to North Carolina and U.S. biofuels targets within a couple years," said Hans Christian Holm, global marketing manager for Novozymes.