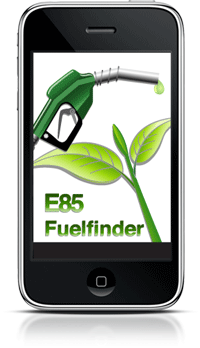 The Renewable Fuels Association just announced a new iPhone app – E-85 Fuelfinder (opens iTunes) to help flex-fuel drivers access the latest, most accurately geo-coded E85 stations throughout the United States. Can you say, E85 fuel? There's an app for that! Hurry to get yours since it won't be free for long.

This application will also work on the iTouch and iPad. The RFA will sponsor a free download for the first 500 users.
The E85 FuelFinder allows iPhone and iPad users all over the country to map out E85 (85% ethanol, 15% gasoline) stations most accessible to them, no matter their current location or destination. With the database embedded in the iPhone itself, this application is useful, even if the user is in a no-service zone. In addition, users have the ability to add a station as a "favorite" for quick and easy accessibility, view or update the price per gallon of E85 fuel at specific locations, access driving directions through Google maps, and directly contact a specific station via telephone. The cost of the application is $1.99, which you can download here, and is also available on the App Store.
Similar to the E85 FuelFinder, the RFA has developed an E85 Point of Interest (POI) application for Garmin and TomTom GPS devices, using the E85 station database found on the U.S. Department of Energy's Alternative Fuels & Advanced Vehicles Data Center. Updated quarterly, these GPS applications accurately guide drivers to over 2,300 E85 fueling stations throughout the United States. Step-by-step downloading instructions are available here . There, consumers can download individual state data, a combination of states, or national data directly from their computer to the GPS device. The database for both TomTom and Garmin can be found at www.ChooseEthanol.com.
"With these applications, ethanol-fuels are readily available at the fingertips of America's consumers," said RFA Director of Market Development, Robert White. "Improving the access and availability of E85 is an important step in educating and increasing awareness to drivers of the alternative fuel options they have available to them."