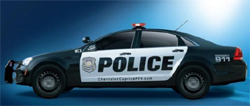 Chevrolet has released the technical manual for the Holden-based 2011 Chevrolet Caprice PPV (Police Patrol Vehicle) and it includes an E85 compatible platform.
The new 2011 Caprice will be powered by a 265kW/521Nm 6.0-litre V8 and include Active Fuel Management. General Motors (GM) says its 0-100km/h time of less than 6.0 seconds will make it the police service's fastest-accelerating and highest-top speed vehicle. This FFV will be included in GM's extensive line of E85 compatible vehicles available in 2012, but this vehicle will not be offered at the retail level.
In 2010, GM offers as flexible fuel:
Buick Lucerne
Buick Terraza
Cadillac Escalade
Chevrolet Avalanche
Chevrolet Express
Chevrolet HHR
Chevrolet Impala
Chevrolet Malibu
Chevrolet Silverado
Chevrolet Tahoe
GMC Savana
GMC Sierra Pickup
GMC Sierra Denali
Recently, the 2011 Buick Regal was announced to be flexible fuel.
For a complete listing of flexible fuel vehicles, click here.