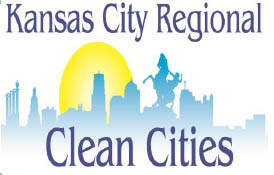 The Kansas City Regional Clean Cites held a workshop today focusing on ethanol fuel. The speakers focused on where ethanol fits in the world today, fleet and retail success stories, and funding available for retail facilities.
"There are 4,560 flexible fuel vehicles in region 6 of GSA. . . We purchased 3.2 million gallons of gasoline in fiscal year 2009 and we're on our way on purchasing more in fiscal year 2010," said U.S. General Services Administration's (GSA) Region VI Represenative Don Gard. "As a success, we've worked with the Army installing the E85 tank in Ft. Leonard Wood, MO. But we are still having the challenges of driver's reluctance to use E85, educating consumers and there is a lack of E85 stations."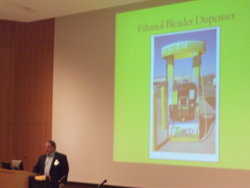 "Three years ago, I began putting together green gas stations. . . We were the first in Kansas to put in a blender dispenser," noted Zarco 66, Inc. owner (shown right). "Being able to get out and explain what I do is the key to moving this forward."
Others speakers included Rich Cregar of Wake Technical Community College, Robert White of RFA, Kelly Gilbert of the Metropolitan Energy Center, Michelle Kautz of Growth Energy, Byan Fox of KCP&L, and Mike MacComiskey of Syn-Tech Systems.