Many school-age children spend quite a bit of time riding the bus. Unfortunately, many reports have indicated that the emissions from buses are extremely harmful, especially for those children with health issues such as asthma. Today, ROUSH Performance Products and Micro Bird, Inc. have announced that they have integrated the ROUSH Liquid Propane system into the new 30-passenger Micro Bird by Girardin, a Type A School, Multi-Function School Activity Bus (MSFAB) and Commercial Bus. One of the biggest benefits – significantly reduced tailpipe emissions.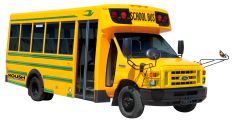 "Propane is a perfect alternative fuel option for school districts that must reduce their operational costs as well as lower their emissions," said Jack Roush, motorsports legend and chairman of ROUSH Enterprises. "Historically, propane trends 30 to 40 percent less than diesel which helps the school districts to stretch their fuel budget considerably further, and there is no question that the emissions are much cleaner."
On the emissions front, ROUSH says that propane burns cleaner than gasoline or diesel, with up to 20 percent less nitrogen oxide, up to 60 percent less carbon monoxide, 24 percent fewer greenhouse gas emissions, and fewer particulate emissions when compared to gasoline. They also promote the cost-savings benefits of the fuel.
"We are excited to partner with an industry leader like Micro Bird," said Todd Mouw, vice president of sales and marketing for ROUSH. "We have spent four years perfecting this liquid propane injection technology and this partnership will show that propane is the best alternative fuel for school districts and shuttle operators across North America."
Bill Danner, Blue Bird vice president of sales, North America concluded, "We are thrilled by the introduction of the new Propane-Powered Micro Bird as it extends Blue Bird's offering of affordable green solutions into all school bus vehicle segments."
The buses will be sold exclusively by Blue Bird Dealers throughout North America. Sales will begin in July with production scheduled for late 2010.