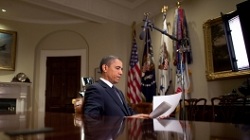 The solar industry in this country could be getting quite a boost, as Pres. Barack Obama announced over the weekend $2 billion in conditional commitments
The President says the money for two companies will come from the Stimulus Bill:
The first is Abengoa Solar, a company that has agreed to build one of the largest solar plants in the world right here in the United States. After years of watching companies build things and create jobs overseas, it's good news that we've attracted a company to our shores to build a plant and create jobs right here in America. In the short term, construction will create approximately 1,600 jobs in Arizona. What's more, over 70 percent of the components and products used in construction will be manufactured in the USA, boosting jobs and communities in states up and down the supply chain. Once completed, this plant will be the first large-scale solar plant in the U.S. to actually store the energy it generates for later use – even at night. And it will generate enough clean, renewable energy to power 70,000 homes.
The second company is Abound Solar Manufacturing, which will manufacture advanced solar panels at two new plants, creating more than 2,000 construction jobs and 1,500 permanent jobs. A Colorado plant is already underway, and an Indiana plant will be built in what's now an empty Chrysler factory. When fully operational, these plants will produce millions of state-of-the-art solar panels each year.
It was just more than a month ago that Obama called for more alternative energy while on a trip to a California solar manufacturing plant (see my post from May 26, 2010).