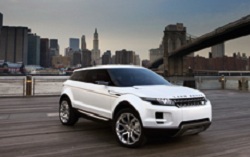 SUV maker Land Rover is set to formally introduce a vehicle that is purported to do pretty well on biodiesel.
This post on The Car Connection blog says the unveiling of the LRX Concept will take place tomorrow for the 40th anniversary of the Range Rover:
The LRX was previously expected to make its public debut at the Paris Motor Show this fall, and that's still a likely candidate for its first show-circuit appearance. The concept version of the LRX is powered by a 2.0-liter diesel engine capable of sucking 60 mpg out of biodiesel. The biodiesel element may not make it to production, but we'd expect to see a highly-efficient diesel engine in the car from the start–for Europe at least. In the U.S., a small turbocharged gas burner is more likely. Stop-start tech and lightweight materials are also expected to play a key role in fuel savings with the new compact Range Rover.
You can watch the official unveiling at this website.