Indy cars recently tore up the track running on clean-burning ethanol, right next to the Iowa corn fields where the feedstock for the green fuel is grown.
In this edition of the Domestic Fuel Cast, we bring you some of the sounds and interviews from the Iowa Corn Indy 250 presented by Pioneer, and the Iowa Corn Growers Association. Our own Chuck Zimmerman had the chance to talk to Ron McQueeny, director of photography for the Indy Racing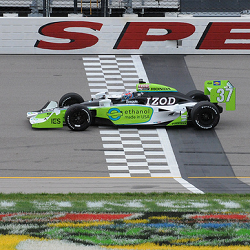 League and a nearly 40-year veteran photographer of the sport, who says the clean, green fuel has made a world of difference in clearing the haze that used to accompany the start of each race. In addition, we catch up with farmer and President of the Iowa Corn Growers Association, Don Elsbernd, and Todd Frazier with Pioneer Hi-Bred. They see the Iowa Corn Indy 250 as a great showcase for the green fuel and are glad that so many corn farmers are able to see the fruit… a very high-performance fruit… of their labors in corn-based ethanol in these fantastic racing machines.
It's a great conversation, and you can hear more of it in the player below.
Domestic Fuel Cast