The 2010 California Propane Road Show kicked off today in Sacramento, California where people could take a test drive in a truck powered by propane. The three-city tour is sponsored by the Western Propane Gas Association as well as the Propane Education & Research Council. In addition, ROUSH, a leader in developing liquid propane engine technologies, is also participating in the tour. Currently the company's technology can be found in the Ford F-Series pickups as well as the E-Series vans and they state that the vehicles have no loss of horsepower, torque or towing capacity.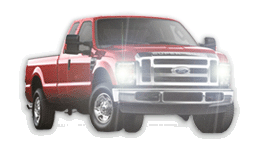 For many years, California has been the leading state for environmental policies, thus driving their vehicle emission target levels. ROUSH states that many fleets are struggling to meet state emissions requirements and propane offers an immediate and cost-effective solution.
"Propane is a here-and-now choice for fleets who want to achieve state and federal emission requirements and save money over traditional gas and diesel options," said Lesley Garland, president and CEO of the Western Propane Gas Association. "Test driving the propane vehicles shows fleet and transportation managers how well the vehicles perform while running on a fuel that will help them reduce carbon emissions and fuel costs immediately."
Each stop begins with a brief presentation on the benefits of using propane and ends with a participant ride-and-drive. The events start at 9:00 am Pacific time.
June 30 – Meeder Equipment, 3495 S. Maple Ave., Fresno, CA 93725
July 1 – Irwindale Speedway, 500 Speedway Drive, Irwindale, CA 91706
For more information about the tour, visit www.switchtopropane.com.