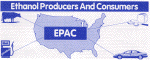 Ethanol Producers and Consumers (EPAC), an educational outreach non-profit organization who supports the production and use of biofuels as a renwable alternative fuel, kicked off their 20th annual conference today in Missoula, MT. "The Biofuel Journey" conference held a number of sessions focusing on ethanol, biodiesel and small grains.
"Twenty years! Who would have thought it?" noted Chairman of the EPAC board, Shirley Ball in her welcome. "Thanks for being here in 2010 to help us celebrate!"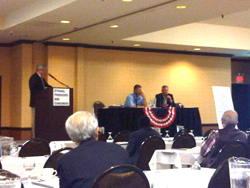 Montana's Director of Agriculture Ron De Yong presented opening remarks this morning followed by a video greeting from Senator Max Baucus, Senator Jon Tester and Representative Dennis Rehberg. The session that followed, The Journey Begins. . . "The OFEC (Old Fogie Ethanol Coalition) Perspective" included presentations from Shirley Ball, Larry Johnson of LLJ Consulting and Business Development, Dave Hallberg of PRIME BioSolutions, Patsy Reimche of EPAC, and Todd Sneller of the Nebraska Ethanol Board.
Sessions following included speakers on the topics of: Early Years – Early Support – The Industry Grows, Air Quality, Biodiesel, and Small Grains.
The EPAC conference concludes tomorrow with presentations on: Cellulosic Ethanol, DDG's, Beyond the Blend Wall: E85, Green Jobs and more.