It's hard to believe that the 23rd Ethanol Conference and Trade Show is just around the corner. This year's event will be held in Kansas City on August 3-5th and there is a lot of excitement surrounding the conference. To get an update on what attendees will be able to learn during the event, I sat down with Brian Jennings, the Executive Vice President for the American Coalition for Ethanol (ACE).
Jennings told me that they are really going to focus on a lot of the key issues that are so critical to the industry today. He also mentioned that they would also be talking about some of the things they're doing on blender pumps.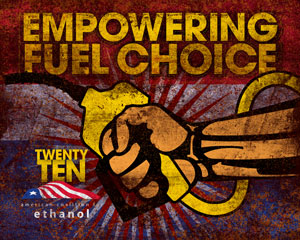 However, on the policy side, Jennings explained that the ethanol tax credit, VETC, is set to expire at the end of this year as is the ethanol tariff if Congress fails to act. There will be sessions dedicated to discussing the benefits of both pieces of policy and they hope to have several current or aspiring legislators on hand to give an update on where they are at.
"There is bi-partisan legislation today in both houses of Congress that would extend both for five years," said Jennings. "And that's what we're working to support and we're doing that in conjunction with both groups." Jennings continued to explain that Congress is going to have an opportunity to tackle that in a couple of different ways. In the Senate, Jennings believes, we'll see this as an energy bill, likely to work its way through in July.
The conference will also feature break-out sessions dedicated to answering some key questions for ethanol producers such as the tailoring rule coming out from the EPA on greenhouse gases as well as learn about some new programs for ethanol producers that were passed as part of the Farm Bill.
They will also spend some time discussing the implications of the gulf spill. "We're not going to attack the oil companies by doing so, but I think it's critically important for people to get a good grasp of what the costs associated with our addiction to oil are," said Jennings. He continued by saying these costs go beyond what consumers pay at the pump and stressed that we do have alternatives to oil today.
Registration is currently open and you can register online here. In addition, you can get more in-depth information about the conference by listening to my full interview with Brian. Brian Jennings Interview