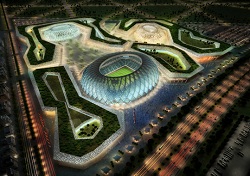 In light of the dramatic American soccer victory at the World Cup in South Africa (and moving on to the next round), I thought you'd be interested in knowing that the power of the sun could help run some of the venues at one country's bid to host the event in the future.
While seems a long way off, inhabitat.com reports the Middle Eastern country of Qatar is already putting together its bid to host the 2022 World Cup, and solar-powered stadiums will play a big role:
Three new eco stadiums and sports complexes will be built close within the city limits allowing fans as well as teams to easily access the arenas. The Al-Wakrah stadium will be able to host over 45,000 spectators and be located in a mixed-use complex along with an aquatic center, spa, sports facilities and a mall, which will continue to be utilized all year long even after the competition ends. Then the Al-Khor and Al-Shamal Stadiums will also be constructed with seating capacity greater than 45,000. Qatar plans on using solar technology to power carbon-neutral technology in order to cool the stadiums and keep the temperature inside less than 27 degrees celsius.
The stadiums are planned to be built by German architectural firm AS & P – Albert Speer & Partner.