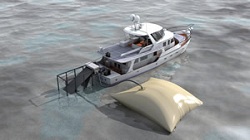 Got an urgent message from my friend Tamra Fakhoorian with the Mid-South Chapter of the National Algae Association looking for volunteers to help with a cleanup effort some members of the algae-producing community are sponsoring. She says they need 10,000 volunteers to help algae oil and biofuel producers Ultra Green International and Algaeventure Systems use their algae know-how to clean up the millions of gallons of petroleum pouring into the Gulf of Mexico: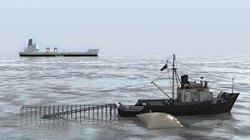 The plan is simple: we're using a highly absorbent matting invented by US scientists in Ohio to mop up the spill, cleaning the Gulf and collecting the oil at the same time. A flotilla of 168 ships manned by local fishermen is poised and ready to patrol the Gulf, literally vacuuming up the 36 million gallons of oil threatening the beaches.
BP has failed to act quickly to solve this crisis and Ultra Green intends to fill the gap. With the help of our science partners Algaeventure Systems, and hundreds of local fishermen who have seen their livelihoods disappear, we are planning to Save the Gulf from the worst ecological disaster in American history.
More details and information on how to volunteer are available at www.sossavethegulfcoast.com.