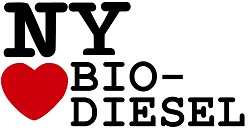 With props to the old t-shirts that read "I <3 NY" (I Love New York), it appears the Big Apple <3 one of our favorite green fuels: biodiesel. It was back in 2005 that the New York City Department of Parks & Recreation piloted the city's first biodiesel program, and Biodiesel Magazine reports Gotham is continuing that commitment to this day:
The agency maintains more than 29,000 acres in New York City, including such well-known venues as Central Park, Battery Park, Flushing Meadows, Coney Island and much more. This enormous task requires a very large fleet—more than 2,300 vehicles, 850 of which are diesel-powered. The diesel fleet alone includes more than 40 different types of vehicles and equipment, everything from landscape and parks maintenance to road construction, snow removal and waste management.
Their experience has been extremely positive. In fact, things have gone so well that the department ran a B50 pilot program in 2007 in 45 vehicles.
"Our B50 trial was very successful and we hope to move to a B50 blend in all but the very coldest months in the near future," said Keith Kerman, assistant commissioner for the parks and recreation department. "We view B20 as a stepping stone that will help move us toward New York City's goal of reducing carbon dioxide emissions 30 percent by 2030."
NY Parks and Rec is also using a B5 blend for its heating systems and boilers, with hopes of moving up to a 20 percent mixture one day. Plus, most of the department's vehicles that don't run on diesel use other alternatives, such as compressed natural gas, electric or solar power.