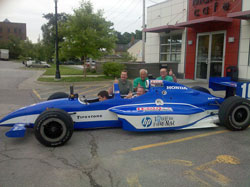 Iowa Secretary of Agriculture Bill Northey got a taste of life in the fast lane yesterday as he was driven through morning rush hour traffic in an Indy Car to promote the 4th annual Iowa Corn Indy 250, sponsored by Pioneer, coming up this weekend.
Northey was given a ride to his office in the two-seater Indy Car after breakfast with representatives from Iowa Speedway and the Iowa Corn Promotion Board. "I definitely got some looks," Northey said. "It's a fun chance to tell folks a little about the Iowa Corn Indy 250."
The Iowa Corn Indy 250 is the only IndyCar race that is run on domestically-produced corn ethanol. The rest of the races in the series are fueled with Brazilian sugarcane ethanol. "Certainly ethanol is huge for the state of Iowa," said Northey. "Three billion gallons of fuel of ethanol are produced in the state. It helps our corn markets as well as 40 plants out there producing jobs across the state so it's huge. And so the visibility the Indy 250 gives to ethanol, not only here but around the world by the coverage it gets, encourages people to use ethanol as well."
Tuesday's Indy car ride along was just one of a series of events leading up the Iowa Corn Indy 250 at Iowa Speedway on Sunday. On Thursday, the Iowa corn growers and Pioneer will be sponsoring a pump promotion in Des Moines, offering E85 for just 85 cents a gallon and regular E10 for 10 cents off. Several drivers will be signing autographs and pumping ethanol for customers and fans at the event to be held at the Guthrie Street Kum & Go from 5:30-7:30 pm – including now Ryan Hunter-Reay, who will be driving the Team Ethanol car once again, for the first time since 2008. Ryan drove the Team Ethanol car to its one and only victory July 6, 2008 in Watkins Glen, NY so ethanol supporters are hopeful he will do it again in Iowa and make the race even sweeter for the corn ethanol industry.