Earlier today, the Global Renewable Fuels Alliance (GRFA) issued its top 10 list of offshore oils sites that they consider "at risk." The list is an attempt to highlight the world's choice between moving forward with the addition of more offshore oil rigs or building more sustainable biofuels plants.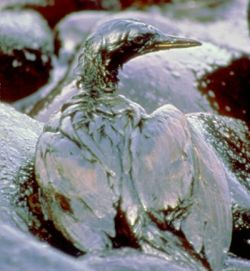 "The choice is clear," said Global Renewable Fuels Alliance spokesperson, Bliss Baker. "We can continue to put our precious resources at risk by drilling deeper and further out to sea or we can build new biofuels plants that can reduce the need for this dangerous practice. We can choose clean-ups or clean fuel."
Worldwide ethanol production is estimated to exceed 22.6 billion gallons by the end of of 2010. This is nearly 1 million barrels per day (equal to about two days worth of oil leaching into the Gulf of Mexico) and will displace the need for more than 370 million barrels of oil. This is equivalent to replacing 100 offshore rigs that produce 10,000 barrels per day.
It is estimated that the current oil leak will be the largest oil disaster in American history and one of the worst global disasters once capped. Experts are predicting that the clean-up bill will exceed $1.43 billion not including lawsuits, fines, etc. While BP is said to have $80 billion is cash, many are anticipating that BP will go bankrupt compelling some legislators and environmental groups to call for a separate fund to use to pay out damages.
Baker continued, "This disaster in the Gulf is our wake-up call. We have enormous potential today to grow sustainable biofuels from a variety of feedstocks. According to a Department of Energy Study, the U.S. alone could produce up to 494 billion litres (130b gallons) of cellulosic ethanol."
The GRFA's list of offshore drilling activity or potential activity includes several sites that operate in ecologically sensitive areas that would spell disaster should there be another blow out. The list includes:
1. U.S. Gulf States
2. Australia – Margaret River (Australia's South West Coast)
3. U.S. Arctic National Wildlife Refuge (ANWR) – Area 1002
4. Canada – Orphan Basin, Newfoundland
5. Australia – Montara – Timor Sea
6. North Sea – West Coast of Shetland Isles
7. Nigeria – Niger Delta
8. Russia – The Sea of Okhotsk
9. Brazil – Santos Basin
10. U.S. Alaska's North Shore – Chukchi and Beaufort Sea
On another note, many news outlets are reporting that people are boycotting BP stations. The irony is that not only are independent gas stations owners being hurt, but many unbranded gas stations may still be selling BP gas. But where these reporters are missing the mark is that if people really want to send a message to oil companies that environmental catastrophes are not acceptable, then they should be using alternative fuels such as biodiesel or ethanol, (or even propane or natural gas or buy a hybrid or electric vehicle) and also be choosing higher blends of these fuels at the pump. Only then will BP really start to feel pain at the pump.