TransTech Energy has reported that they have signed an agreement with Icom North America to install and service Icom's patented JTG propane liquid injection fuel system on government and commercial fleet vehicles. The JTG fuel system can be installed on nearly any gasoline vehicle with multi-point injection. According to TransTech they anticipate selling more than 3,000 systems during the first three years which will provide the recipients with lower emissions and improved fuel economy.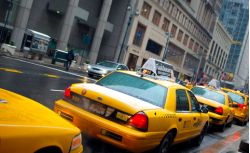 "TransTech Energy is well-respected throughout the propane industry as a leading contractor for propane storage-facility engineering and construction," said Ralph Perpetuini, CEO of Icom North America. "Interest in propane as an alternative fuel continues to grow; it will lead to increased business for both of our companies and enable the further expansion of the propane vehicle industry in the USA."
Icom's technology has been installed on more than 100,000 vehicles worldwide as a bi-fuel (gasoline-propane) fuel system. In the US, the mono-fuel version (propane only) has been installed on more than 5,000 vehicles. Targeted vehicles for the fuel system include taxis, police cars, municipal fleets, and any commercial vehicles.
Britt Medley, CEO of TransTech concluded, "Icom's bi-fuel system allows owners to operate their vehicles in a gasoline-only mode without affecting normal driving. Installation is non-invasive and the engine's original computer serves as the main system controller, a feature fleet managers like to see with an aftermarket alternative fuel system."