Today, Virent Energy Systems announced that it has closed its third round of funding totaling $46.4 million. Two of the company's largest investors, Cargill and Shell, increased their financial commitments as part of this funding round as did all other current investors. The money will be used to advance the company's efforts to bring to market its BioForming process, a patented catalytic biorefinery platform, to commercial production volumes. Virent is a company that specializes in converting plant sugars into sustainable advanced fuels for cars, trucks, trains, and airplanes.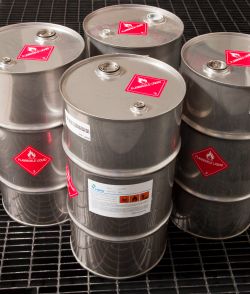 "Virent has a competitive advantage from our strong relationships with two premier, global companies, Shell and Cargill. Their significant capabilities and expertise across the value chain will be essential to accelerating deployment of Virent's BioForming technology at commercial scale," said Lee Edwards, Virent President and CEO. "I am especially gratified that our accomplishments to date have resulted in a $46.4 million funding round, which is well above our initial $25-40 million objective."
The agreement also expands Virent's existing research and development collaboration with Shell for the production of biogasoline to include diesel fuel and awards Shell a seat on the company's board.
Luis Scoffone, Vice President of Alternative Energies at Shell said, "This investment demonstrates Shell's confidence in Virent's catalytic biofuel production processes. The expansion of our joint technology program to include research into the production of diesel from plant sugars offers considerable potential and complements Shell's wider biofuels portfolio.''
Earlier this year, Virent announced its successful start-up of the world's first biogasoline production plant. The plant currently produces more than 10,000 gallons per year of biogasoline and is taking the next steps to bring its product to commercial scale production. According to the company, their BioForming platform technology catalytically transforms soluble plant sugars into gasoline, jet fuel, diesel, and chemical molecules like those refined from crude oil. Their products can readily enter the market using existing pipelines and fuels pumps to power today's vehicles at high blends.
Scott Portney, Corporate Vice President of Cargill, said of Virent's technology, "Over the past four years, Cargill has supported Virent's innovative sugars-to-hydrocarbons technology as it has evolved into a true biorefinery solution with the potential to help replace petroleum as the source of fuels and many chemicals. We also see the technology's feedstock flexibility as an important characteristic to enable replacing the sugar source used in producing biogasoline with nonfood sources, such as sugars derived from lignocellulosic feedstocks."