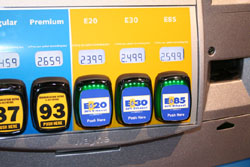 South Dakota has just concluded the sign up period for a blender pump program that offers gas station owners $10,000 per blender pump they install.
The program was created by legislation from State Representative Mitch Fargen with the funding coming from the federal American Recovery and Reinvestment Act. Grant applications were accepted April 1 through May 28, and more than 100 applications were submitted.
The American Coalition for Ethanol (ACE) praised the grant program that will greatly enhance consumer fuel choice in South Dakota. "This is an outstanding opportunity for South Dakota gas stations, and once the station owners heard about the grant program, it basically sold itself – as evidenced by the fact that the number of grant applications exceeded the goal of the program," said Ron Lamberty, Vice President of Market Development for ACE.
The legislation passed earlier this year approved $1 million for retailers in South Dakota to install blender pumps for ethanol up to 85 percent.