A catalyst for biodiesel production has been nominated for an award that represents the most technologically significant products introduced into the marketplace over the past year.
FavStocks.com reports that Idaho National Laboratory's supercritical/solid catalyst that turns waste fats, oils and greases into biodiesel production is up for one of R&D Magazine's 100 Awards:
The Supercritical/Solid Catalyst (SSC) can handle waste greases with up to 100% free fatty acid (FFA) content, more than 30% water content, and high in impurities such as sulfur, phosphorous, calcium and others.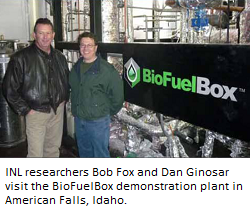 SSC mixes fat or oil feedstock with supercritical fluid solvents and alcohols at specific temperatures and pressures to completely dissolve the materials during a single supercritical phase. This approach overcomes a key barrier—the polar liquid phase in conventional biodiesel production—which requires multiple steps.
The technology is already being tested in the field. BioFuelBox, Inc. of San Jose, Calif. has a pilot plant in American Falls, Idaho that is turning the worst waste into the cleanest of B100 biodiesel.