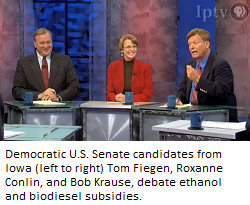 A candidate for the U.S. Senate from Iowa has responded to one of his rivals statements calling ethanol and biodiesel subsidies "bologna, bologna" by calling the statement "wrong, wrong!"
During the recent debate on Iowa Public TV for the Democratic nomination to face presumptive Republican nominee Sen. Charles Grassley, former state Sen. Tom Fiegen bashed the support for ethanol and biodiesel, blaming the oil spill in the Gulf of Mexico on "drilling for natural gas because all of our ethanol plants are fired by natural gas."
Rivals former state Rep. Bob Krause and Roxanne Conlin disagreed. In fact, Krause called Fiegen's evaluation "wrong, wrong," and pointed out:
Ethanol has been an important thing for Iowa because we've been able to keep the protein of the corn and get rid of the carbohydrates of the corn. I think that if you talk to anybody, yeah it's an infinite industry, yeah there are some substantial subsidies but if we don't push in that direction what else are we going to have. Are we going to go out and deep drill some more and give those subsidies or subsidize with troops in Iraq ? Are we going to do that? That's a subsidy too.
Conlin added that the real subsidies are going to the richest industries in the world, Big Oil, and [w]e're sending all kinds of money to people who hate us, $100 million a day to Iran .
The latest Public Policy Polling poll in the Des Moines Register has Fiegen far behind both Conklin (48 percent) and Krause (31 percent), attracting just 8 percent of potential voters.