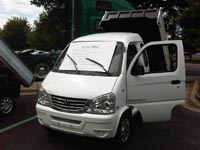 Yesterday, a full day conference: Mobilizing NC: Where Air Quality, Energy & Transportation Meet, which concentrated on alternative fuel and advanced technology solutions to air quality, energy security and environmental concerns, was held at the Jane S. McKimmon Conference Center in Raleigh, North Carolina.
Topics covered during the event included: Fleets, Transportation and Land Use Planning Success Stories and concurrent sessions on Biofuels, Natural Gas, Propane, Diesel & Electric Vehicle Transportation Technologies. The luncheon speaker was Peter Maas, author of Crude World, the Violent Twilight of Oil .
Over 2 dozen Ride-N-Drive vehicles were displayed along with a number of exhibits.
The event was hosted by NC Solar Center/NCSU with support provided by Triangle Clean Cities, Centralina Clean Fuels Coalition, Land of Sky Clean Vehicle Coalition, Triad Air Awareness and NC State Engineering Foundation. A cosponsor included Growth Energy.