Memorial Day is right around the bend and this weekend marks the start of summer driving. According to AAA, nearly 28 million Americans are expected to travel this weekend alone, a number curtailed due to environmental concerns as well as concerns caused by the Gulf of Mexico oil spill. Yet there is good news for drivers as they are saving an average of $105 per year because of ethanol. This according to a report released today by the Renewable Fuels Association (RFA).
The blending of ethanol into America's fuel supply is saving consumers approximately 10 cents per gallon as compared to straight gasoline prices. According to RFA, at the wholesale level, ethanol has been selling at a 50-70 cent per gallon discount to gasoline before the 45 cent per gallon blender's credit is taken into account. As a result, at a 10 percent ethanol blend (E10), the average American household is saving up to $105 per year.
"Domestic ethanol blends are a great bargain for consumers, saving them money at the pump while allowing them to support a truly American industry," said RFA Vice President of Research Geoff Cooper. "Simply filling up with E10 instead of regular gasoline saves families money at a time when economic concerns and the Gulf of Mexico oil spill are front of mind. Ethanol is part of the solution to both concerns."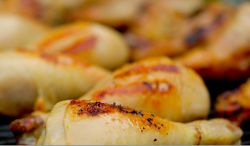 On another front, as the grills get fired up, ethanol continues to be incorrectly blamed for higher prices of meat due to the claim from ethanol opponents that grain prices are higher. Yet the study shows that grain prices are not higher. In fact, corn prices are nearly 20 percent lower than one year ago and less than half of what they were during the oil-fueled speculative commodity bubble in the summer of 2008.
In a recent column, influential commodity analyst Rick Kment writing for DTN said, "Ethanol continues to be the whipping boy, but blaming the fuel for today's higher meat prices just doesn't add up. In the past four months live cattle futures have increased 25 percent while corn prices have fallen nearly 13 percent."
Cooper on behalf of RFA added, "Finally, and most importantly, Memorial Day is a hallowed holiday in America when the nation pauses to remember those defending and those who have defended this nation. We pay special tribute to those individuals and families who made the ultimate sacrifice. The RFA wishes to extend its appreciation on behalf of everyone involved in America's ethanol industry."