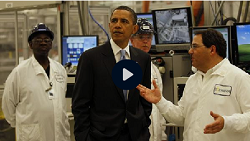 President Obama has used his trip to solar manufacturing plant built with federal stimulus money to make a push for alternative fuel sources.

KGO-TV in San Francisco reports that speaking at the Solyndra plant in Fremont, California, Obama made his case in a facility built with $535 million in federal loan guarantees, mindful that the oil disaster in the Gulf of Mexico could help him make the case for green fuels:
"When it's completed in a few months, Solyndra expects to hire 1,000 workers to manufacture solar panels and sell them across America and around the world," the president said.
The president also said that is only the beginning.
"And, that's why I'm going to keep fighting to pass comprehensive energy and climate legislation in Washington," he said. "We're going to try and get it done this year."
He told the invited audience of Solyndra employees and public officials that the oil spill in the Gulf underscores the necessity of seeking alternative energy sources.
Obama promised to be behind efforts to cultivate solar, wind and biodiesel. That's great! Let's see if he follows through and lights that fire under Congress this week to finish the work on the federal $1-a-gallon biodiesel tax incentive.