A Nevada clean energy company is buying more than half of a British Columbia-based biodiesel maker.
This press release posted on MarketWatch.com says W2 Energy has signed a letter of intent to purchase 60 percent of Agri-Green Biodiesel, Inc.: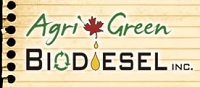 Agri-Green Biodiesel (AGB) consists of three divisions that generated sales of $655,000 in 2009. The different divisions in AGB are a perfect match with the development strategy of W2 Energy: collecting feedstocks, such as waste vegetable oil, converting it into biodiesel and selling it through wholesale and retail outlets.
The current AGB facility has an annual capacity of 1,000,000 gallons per year and W2 will use the NT Plasmatron technology to convert waste from biodiesel production (glycerin) into methanol and electricity. The purchase of Methanol is one of the main costs of creating biodiesel. Using the NT Plasmatron, W2 will be able to reduce biodiesel production expense at the Sparwood plant.
Disposal of waste products like waste antifreeze and waste vegetable oil have been a serious environmental concern for many years. The 2nd generation NT Plasmatron gives W2 Energy the ability to deliver low cost power and increases its fuel generation capabilities.
W2 Energy uses a closed loop system and is a net user of carbon dioxide.