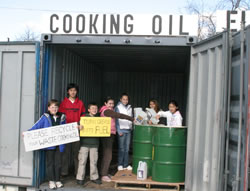 Some Rhode Island students are screaming, "TGIF!" But this time, it doesn't mean "Thank God Its Friday;" it means "Turn Grease into Fuel."
The seven students from Westerly Middle School in Westerly, Rhode Island have picked up the 2010 President's Environmental Youth Award (PEYA) and are being recognized in Washington, DC:
The students, Cassandra Lin, John Perino, Marissa Chiaradio, Taylor Fiore-Chettiar, Vanessa Bertsch, Miles Temel and Alaxander Lin members of the Westerly Innovations Network at Westerly Middle School. Together, they decided to do their part in tackling global warming by creating a sustainable project that collected waste cooking oil, refined it into biofuel, and distributed it.
"I am so impressed with the commitment these students showed by taking action to improve the environment," said Curt Spalding, regional administrator of EPA's New England office. "We have serious environmental problems, but with the creativity and commitment displayed by these students, we can find ways to effectively work toward a cleaner and healthier world."
The students presented the project to the local town council and convinced them to place a grease receptacle at the town's transfer station to collect the waste cooking oil from residents. The youths also convinced 64 local restaurants to donate their waste cooking oil, a by-product of fried food. To collect the waste oil from the restaurants and the transfer station, the students collaborated with a company to collect it and bring it to a waste cooling oil/biodiesel refiner. The proceeds from the refiner were used to purchase "Bioheat" from a local distributor to give to local charities.
Forty families have been helped with donated Bioheat from the project.