A by-product of biodiesel could end up being another feedstock for more of the green fuel.
This article from Biodiesel Magazine tells how Spain-based Neuron BioIndustrial is turning glycerin, made during the biodiesel brewing process, into an oil called MicroBiOil, which, in turn, is being made into more biodiesel: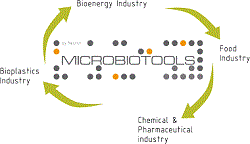 Neuron BioIndustrial has selected a specific type of microorganism that metabolizes large quantities of raw glycerin as the sole carbon source. The resulting microbial mass contains more than 50 percent of its dry weight as lipids. These microorganisms are nonpathogenic and are not genetically modified.
The microbial oil can be extracted by common extraction methods due to its similar composition to oils conventionally used for biodiesel production (e.g., soybean, sunflower oils). This oil can be used as new raw material to produce biodiesel as its properties and fatty acid composition is in accordance with European (EN14214) and American (ASTM D6751) standards. It is also possible to carry out a methanolysis with the microbial biomass to directly obtain the mixture of methyl ester.
Thanks to this technology, the productivity of a biodiesel plant can be increased by 2 to 3 percent.
You can read more about the process on the Neuron BioIndustrial Web site.